NEW LITTER - "B"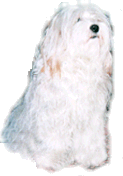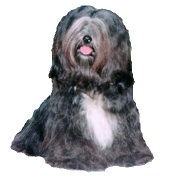 Tiara-Su Virgoi x Schaka-Ta's Lha-Yanda
On Sunday 22.8.1999 Yanda delivered 5 healthy puppies sired by Tiara-Su Virgoi (look at his pedigree and photo) He is again from belgian blood line Tiara-Su, because we are very satisfied with Yanda's first litter (lines: Schaka-Ta's x Tiara-Su).
There are 3 males (white with black marks, 2x black with white marks) and 2 females (sable with white marks and black). Here you can see their pedigre and photos.
Two of them are still free: male white with black marks and female sable with white marks. You can see them at photos. Both are typical, quadratic, with beautiful head and statue, with full pigmentation, scissor bite, full set of teeth and the best, long coat. Both can be in future use as showdogs and studdogs.
......
Bharat Buddha Khatakhyi ......... Bcandba Boshay Khatakhyi